Art has the power to bring people together and create a sense of belonging. Community mural projects aim to do just that - connect people through art. Each mural tells a unique story, reflecting the community that it represents. Here are some samples of the over 95 murals that I've completed since 2001. Join me in the mission to use art as a tool for social change. To request a mural, get in touch with me using the form on the Homepage.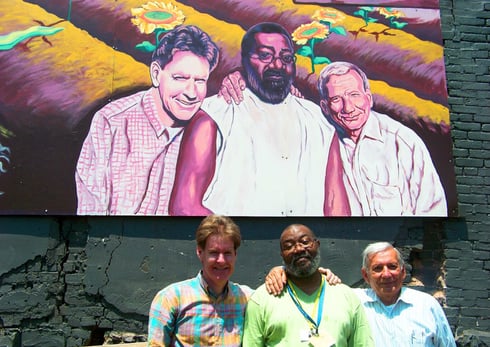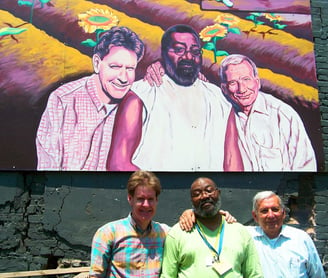 History Leaves an Impression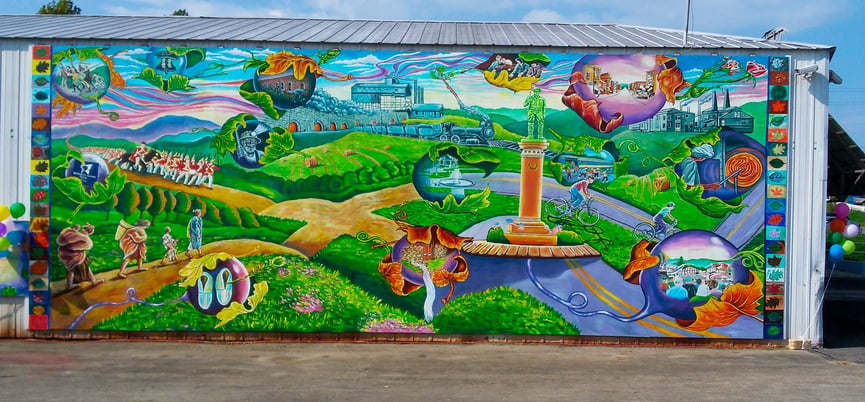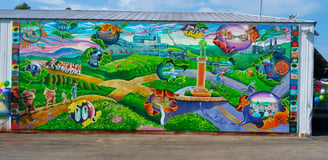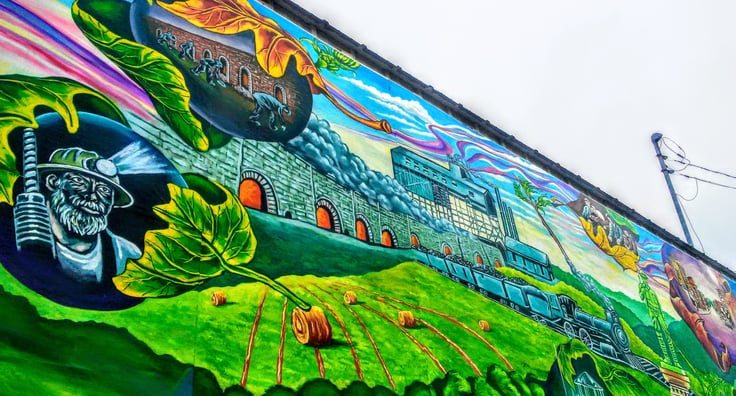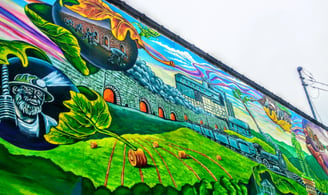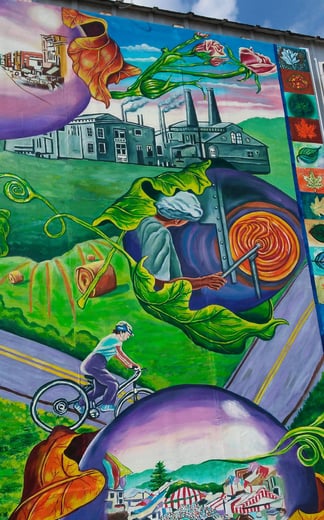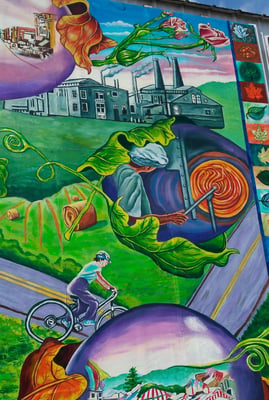 The town of Mt. Pleasant, PA has an illustrious history as a gateway as an important hub in the westward expansion in Pennsylvania. We wanted to share some of the stories from Mt. Pleasant's history (like the ill-fated march of General Braddock's army and the Whiskey Rebellion), and also scenes from modern life. Over 80 local residents came together to help me design and paint this 17 x 35 ft. mural off the busy Rt. 31, on the side of American Architectural Salvage.
Oil City: Being Completed
Oil City, in northwest PA, has sought to infuse life, color, and visual energy into its downtown through a series of mural projects. Oil City: Being Completed shows a gathering of people adding their own touches to an image of Oil City -- symbolically making their town more complete. It's 26 x 24 feet.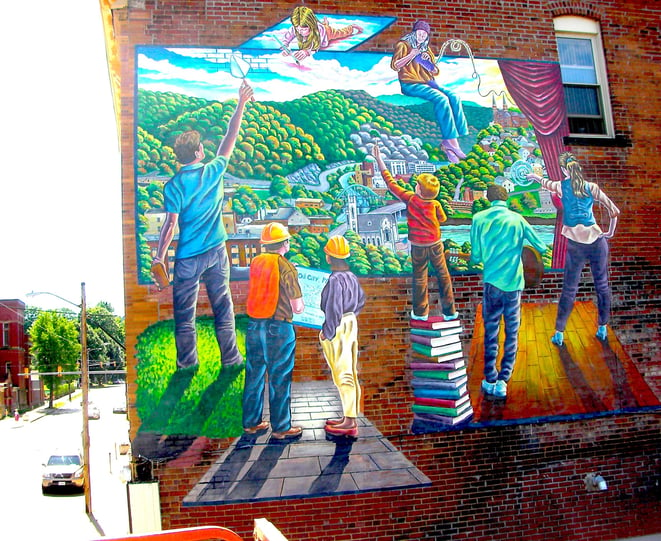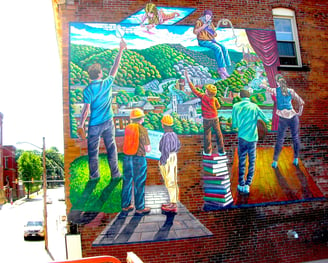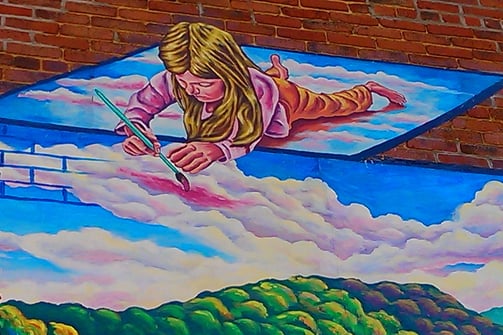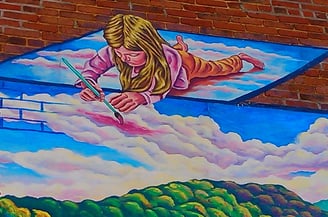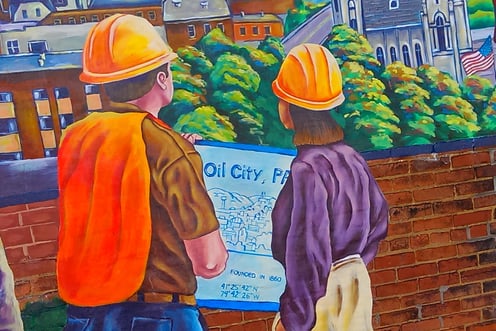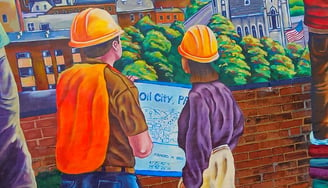 Beaver County Transit History
Designed for a 9 x 66 foot wall in the Beaver County Transit Authority hub in Rochester, this mural shows all the various modes of transport used in Beaver County's history. I've done many history-themed murals, but this was one of my favorites partly because of the long span of history in the mural -- from Conestoga wagons to a bullet train.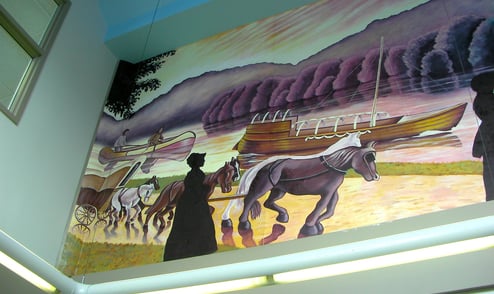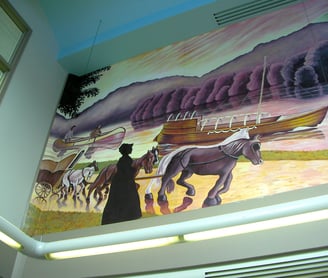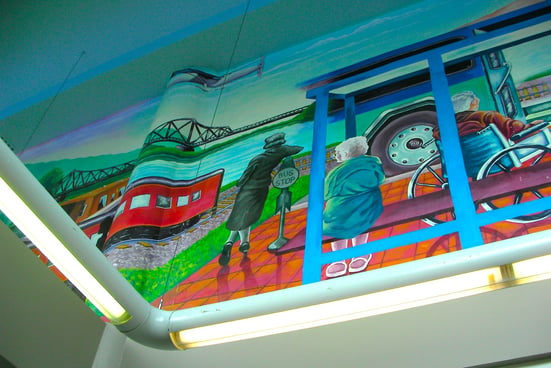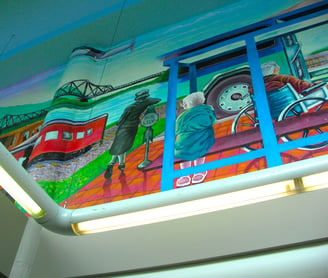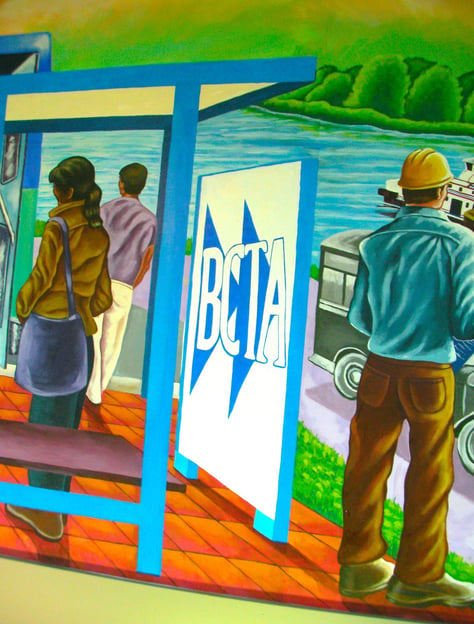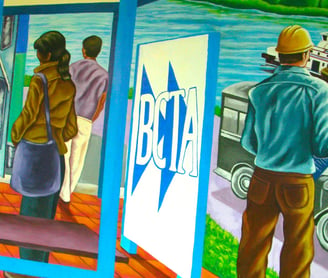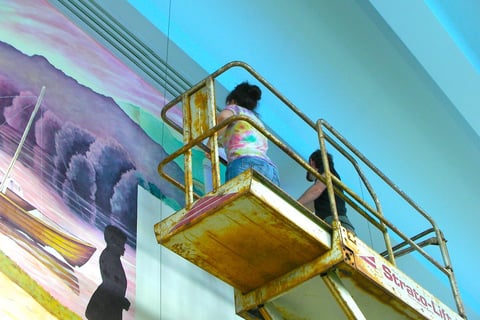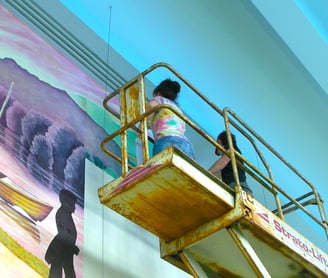 A Vital & Connected Rochester
The town of Rochester, PA, like many other towns in Western Pennsylvania, was a former industrial powerhouse that has fallen on harder times over the past 40 years. However, there are efforts to improve the quality of life for the town's residents and shift the narrative. This mural provides a bright spot on the main commercial corridor in town. The design shows different activities that Rochester wants to be known for like outdoor activities and restaurants. The butterfly & chrysalis symbolizes renewal. The butterflies on the border were painted by local 4th grade students.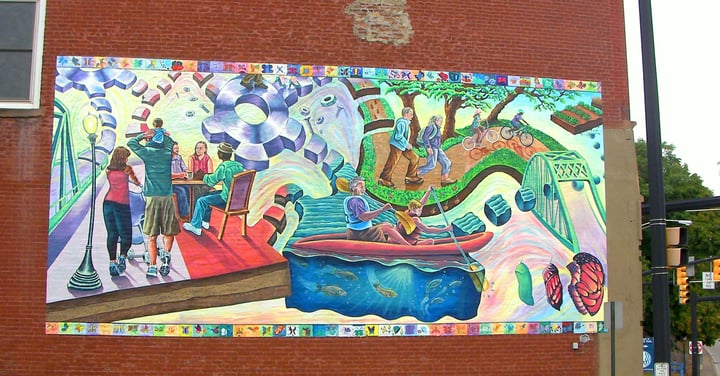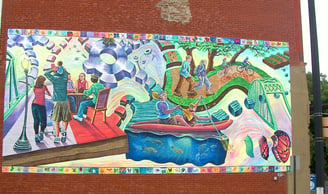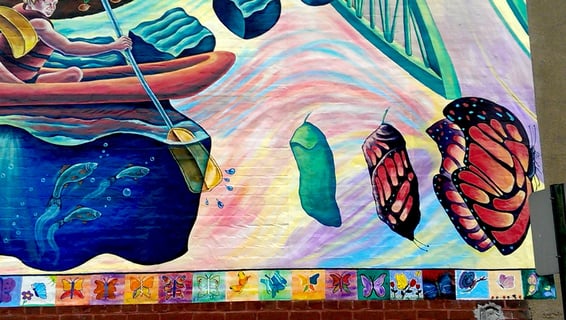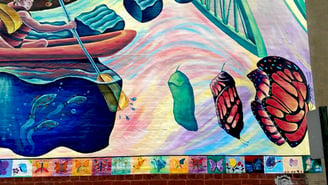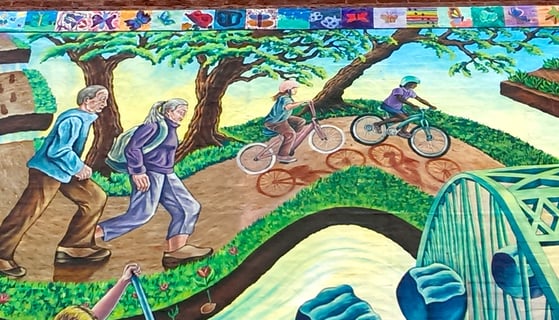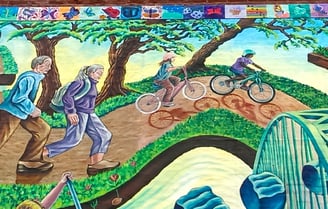 Andy, Jeffrey, and Luis (pictured below) helped transform a corner of Hunting Park in North Philadelphia from an eyesore trash dump into a thriving community garden. We created this mural to tell the story of the process of transformation and to help turn the area into something beautiful and meaningful. Over 70 local residents helped me paint the mural on our Community Paint Day. The design shows the tilled soil merging with the bigger city of Philadelphia to show that the positive impact in the Hunting Park Community Garden can influence the whole city.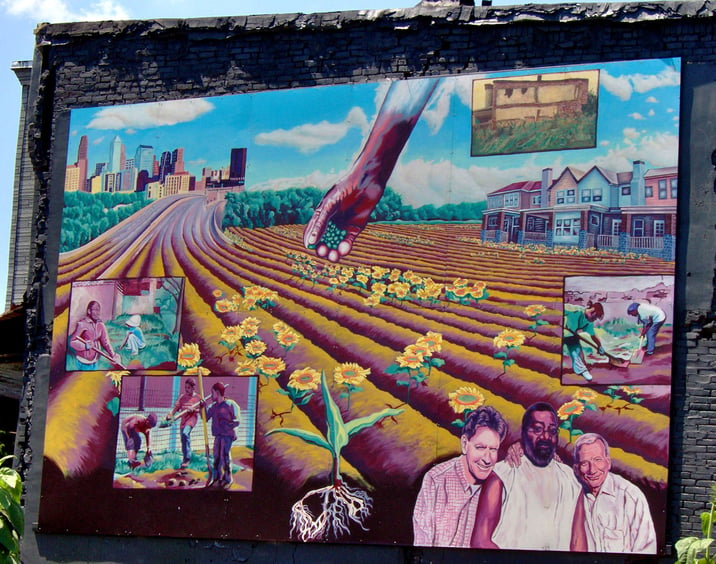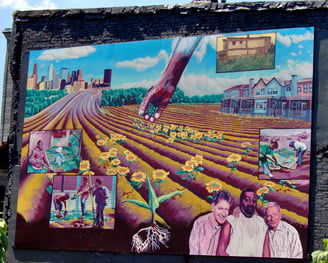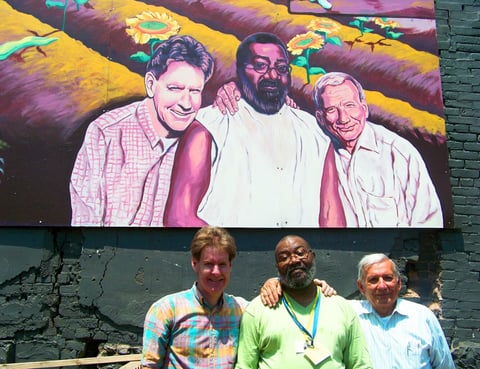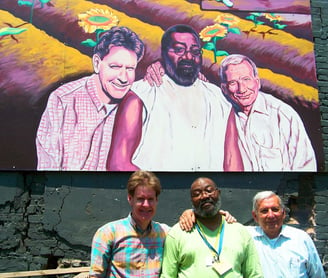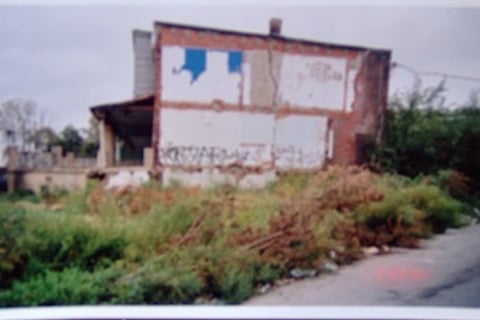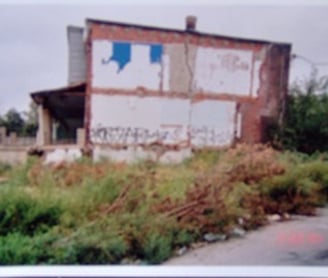 The site of the Hunting Park Community Garden before it was transformed into a place of beauty and nourishment for the neighborhood.
For this mural, located in downtown Wheeling, WV, I partnered with the Marian House and art therapist Bianca Benson through the Catholic Neighborhood Center. We worked with adults with mental illnesses to design and paint this large scale mural (24 x 27 feet). The Marian House clients wanted to show pain and mental anguish but also hope through access to public transit, being social, and through their faith in God. We funded this project through crowdfunding, which was a first for me. The success of this mural seemed to be a catalyst for a number of other murals in Wheeling in recent years.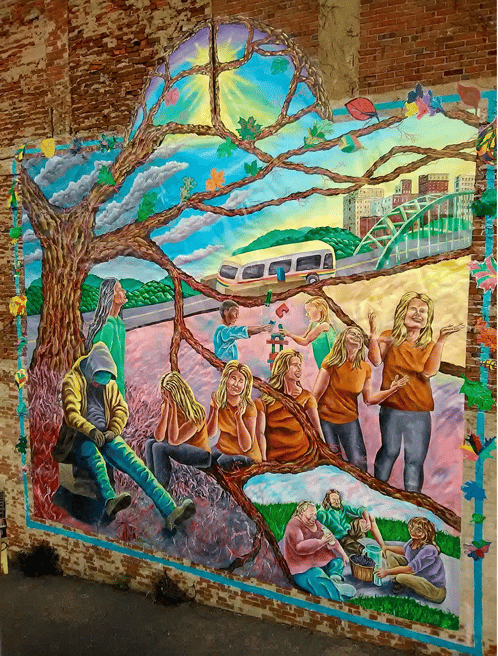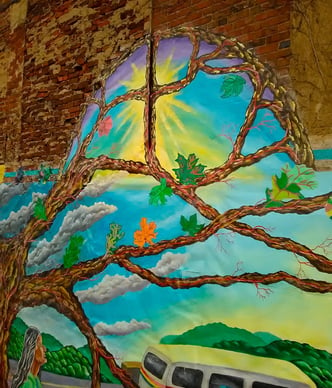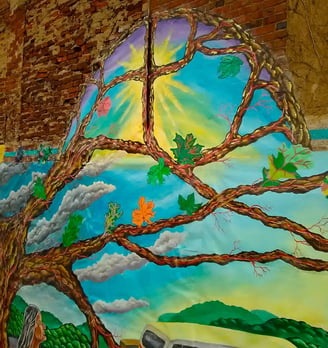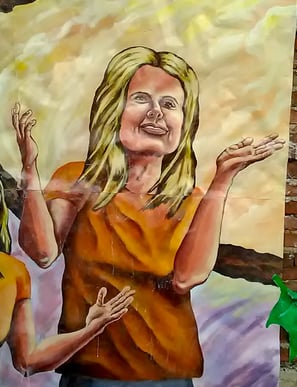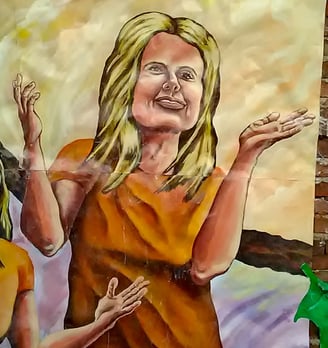 For Facing the World, I worked with about 40 art students and art teacher Nadia Kroll at Fels High School in North Philadelphia. The students wanted to show the multi-racial and multi-ethnic makeup of their school. We chose to represent two different races on the same face, along with a world map over them. We wanted to show that the students are very much a part of the whole world, and the world is a part of them as well. The lockers and floor tiles breaking apart is a symbol of their short-lived time in high school, after which they'll have many choices and directions to take.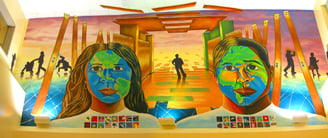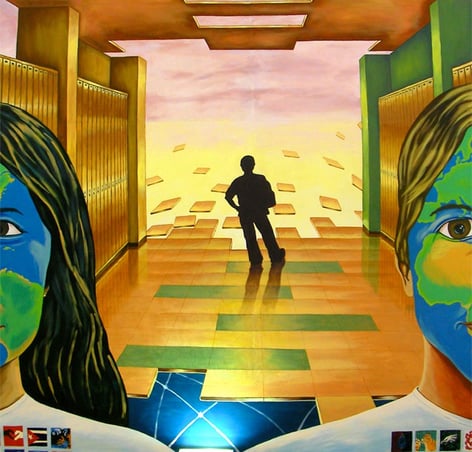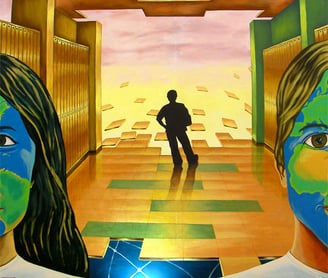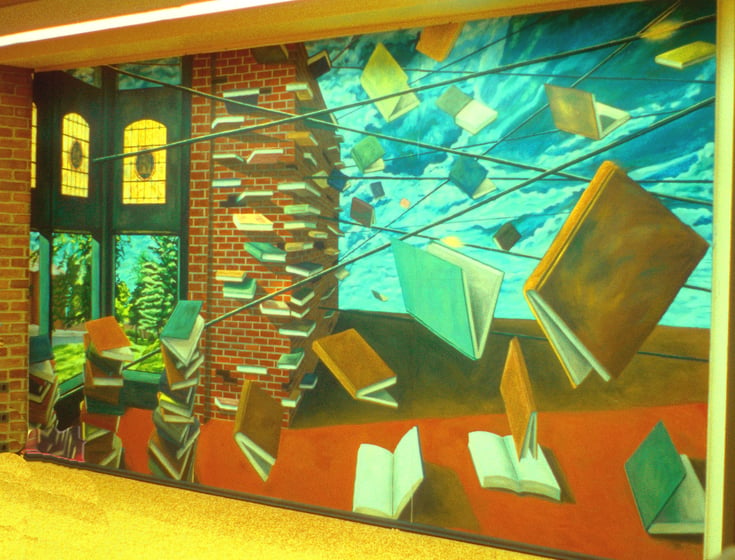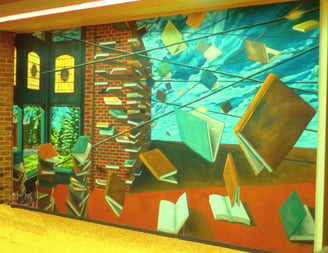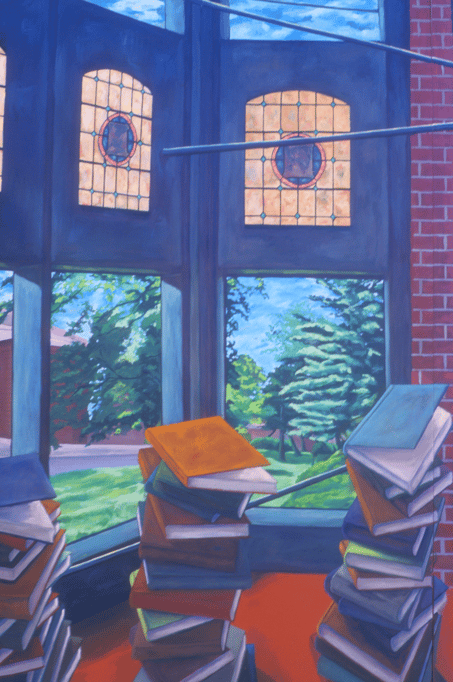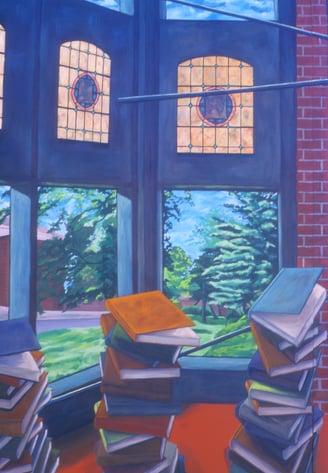 Building Blocks was my very first mural, completed for the Indiana University of Pennsylvania Library back in 2001. The wall was begging for a mural so I approached the library leadership and they were more than happy to have a mural painted in such a banal space. I wanted to liven up that space with a dynamic design that shows energy and movement, while showing some of the stained glass architecture of the library. It's still there, 22 years later!
Created for the main lobby of Joy in the City Seminary in North Philadelphia, Wheat and Weeds shows seminarians emerging from a symbolic doorway into the neighborhood.